DFCP Donates Stationary
Written by
DFCP News


Thursday 25 July 2013 23:49

Diaspora Funeral Cash Plan has donated large quantities of stationery sourced from the UK to Mukoko Primary School in Gutu.

The donation includes hundreds of pens and pencils amongst other items ideal for a primary school. Before the donation the whole School was sharing just one stapler.

The Diaspora Funeral Cash Plan is proud to be engaging in such community support initiatives as the project is community oriented and was initiated to deal with an age old social ill that has haunted communities for time immemorial.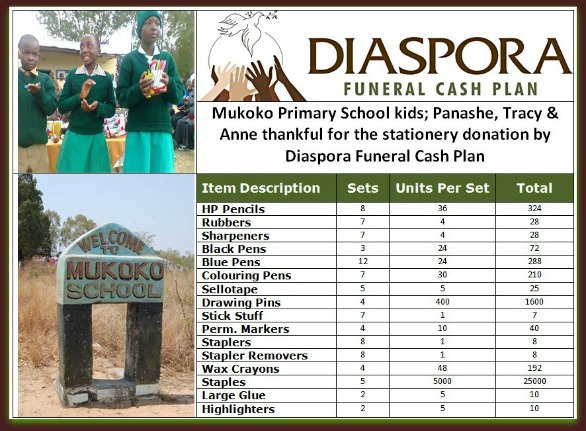 The Diaspora Funeral Cash Plan is a very innovative global funeral insurance which guarantee everyone covered a dignified send-off by paying out a cash benefit immediately on death. Cover is available up to US$20, 000 and every Zimbabwean including those in Zimbabwe qualifies to be covered.
Quote & Apply Online 24/7: http://www.diasporafuneralcashplan.com/
Premiums from just $1.58pm! Up to US$20 000 cover!
Protect Yourself! Protect Your Family! Protect Your Dignity!